Daniel Lurvey
is a designer who specializes in print, publication, digital media, and branding. Originally from Portland, Oregon, he studied graphic design at the Minneapolis College of Art and Design (2016) and received his Bachelor of Design from the Nova Scotia College of Art and Design (2014–2017).
He has worked at MCAD DesignWorks and Anna Leonowens Gallery. He is currently living in Minneapolis, MN and working at PMH Advertising.
Daniel is currently accepting full-time, freelance and collaborative opportunities.

—

Contact:

Instagram: @lurvey
Email: dlurvey@gmail.com
Download: CV
Selected work:
New Standard Institute Branding
The New Standard Institute is working with scientists, government officials and apparel industry leaders to develop a better standard for good. My role in this project was to create a logo and brand identity and layout system, as well as develop photo direction sourced from stock photography.
Category:

Brand identity, logo design, photo direction

Creative Direction:

Courtney Vincent & Mathew Swenson
Logos:
Brand guideline excerpts:
Brand pitch deck excerpts: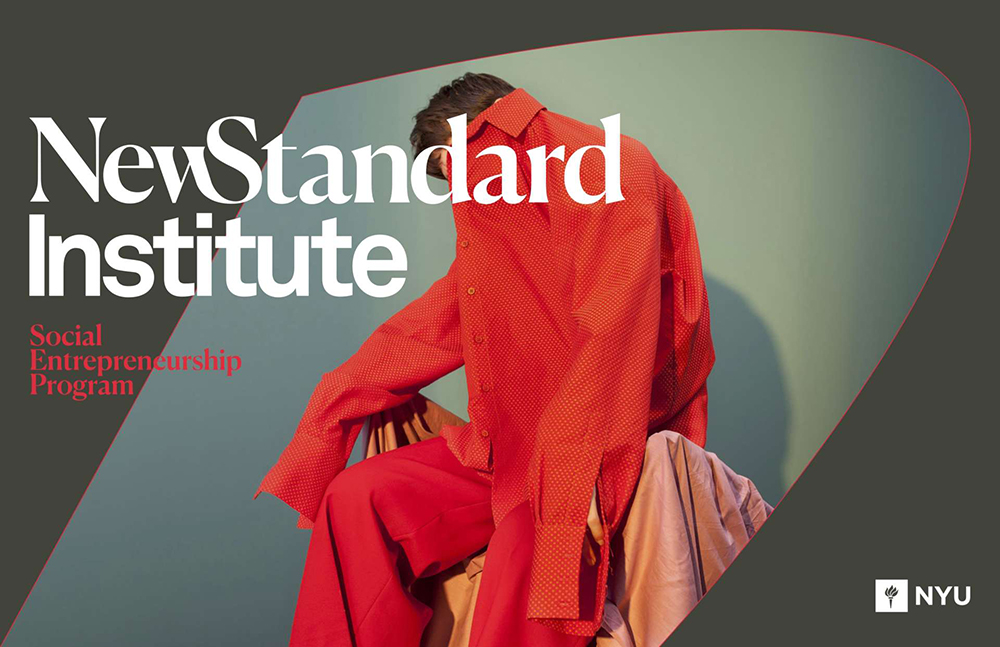 Selected brand applications:
—
Anna Leonowens Gallery Systems Rebrand
The Anna Leonowens Gallery sought a rebrand to celebrate their 50th anniversary. With the rebrand, they took the opportunity to rename the gallery, as it was already known colliquially as The Anna.

These three guiding tenants were followed when approaching the new brand identity: 1) To represent NSCAD's rich history without feeling overly formal, old-fashioned or status quo. 2) To allow for an amount of playfulness and risky-taking. 3) To bring the Anna to an international level in the art world.

View the full case study here.
Category:

Brand identity, logo design, print design

FPO Photography:

Cole Wilson
Logos and fonts:
Selected applications:
—
It Bed Graphic Standards Manual
Created the brand guidelines and graphic standards manual for It Bed, a millenial-loving subsidiary of the Sleep Number mattress company.
Category:

Brand guidelines, graphic standards manual
Creative Direction:

Andrea Hyde
Selected excerpts:
Selected applications:
—
Walker Art Center Flyer
Designed the direct mail flyer for the 2017 summer programming at the Walker Art Center's Moving Image with Mizna, Reshaping Our World: Cinema without Borders. The series was a response to the Muslim Travel Ban and features films from the seven countries affected by the ban.
Category:

Print, direct mail
—
Eyelevel Reshelving Initiative 8
Designed the identity for Eyelevel Reshelving Initiative 8, an exhibition of printed matter in Halifax, Nova Scotia. The theme of the exhibition is Inner/Outer Space. The inner and outter space of a city is constantly being redistributed as the built environment is developed over time. For the identity, I took the Halifax city map and liberally reconstructed it, while diligently respecting the margins on the page, in reference to the printed page.
Category:

Exhibition identity, print, map design

Deliverables:

Map, Poster and Social Assets
—
NSCAD Graduation Identity and Catalogue
Designed the brand identity for the NSCAD University Spring 2017 graduation commencement ceremony, exhibition at the Anna Leonowens Gallery, and printed catalogue featuring work from the graduating class, and accompanying materials.

The identity is based on NSCAD's proximity to the ocean and the interplay of light between water and the architecture of the school. Throughout the identity system, the wave and brick forms are used as a mechanism to obscure, reveal, or reflect light across each application.
Category:

Exhibition Identity and Publication Design

Deliverables:

Printed catalogue, promotional posters, invitations, exterior signage.
Catalogue:
Printed collateral:
Window installation & launch party:
—
Nate Ryan Photography Mailer
Nate Ryan sought a printed direct mailer that he could use to share projects with his professional contacts, starting with his work with Minnesota United FC and singer-songwriter, Chastity Brown.

I created a tri-fold/tri-fold template which would allow for his photography to speak for itself and be flexible enough for a wide variety of projects. The sequence of unfolding the mailer allows for a narrative to be crafted, which ends on a full-bleed poster. The assymetrical fold leaves a strip of the poster to peak through the cover.
Category:

Print, direct mail, promotional, poster
—
La Ligne Claire
La Ligne Claire is a self-initiated exploration of the visual language of speed, motion and space in cycling. The project features a wallpapered exhibition space, a looping moving-poster, and an interactive print installation.
Categories:

Print, installation, motion graphics

Photography:

Tenspeed Hero
—
National Portfolio Day Poster
Designed a brochure and poster for the National Portfolio Day Association's 2017–2018 academic year. Attention was focused on the sequencing of information that the viewer is given as they unfold until finally revealing one of three possible posters. I designed this piece to reflect the excited, sometimes awkward first year of art school that soon-to-be-graduating high school seniors are approaching.
Categories:

Print, direct mail, poster design
—
NSCAD Design Show Website
Designed and developed a simple one-page interactive website as part of NSCAD University's design department graduation show. Emphasis was placed on removing any hierarchy among students by having the class appear in a random order every time the page is loaded. Upon loading, the portraits are scattered randomly across the page. As the user views the students' profiles, the grid of images is rebuilt, only to be scattered and rearranged again with a click of the shuffle button.
—
Safe Harbor Protocol Guidelines
Developed a typographic system and typeset +300 page book for the Minnesota Coaliation Against Sexual Assualt while at MCAD DesignWorks. A nativation system of three colour-coded sections and two-levels of tables of contents aids law enforcement officers and social workers to traverse the legal-jargon dense manual.
—
Self-initiated projects, proposed concepts, sketches, and killed ideas.
—
© 2018 Daniel Lurvey